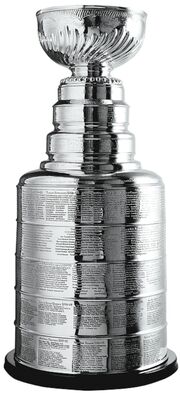 The
Galactic Cup of Limmie
, commonly known simply as the
Galactic Cup
, is a trophy that is awarded to the champion of
Elite League Limmie
. Unlike other sports trophies, a new Galactic Cup is not minted each year. However, the names of the members of each championship team are engraved on the Galactic Cup. The Galactic Cup's history predates that of the Elite League. Prior to 156 ABY, planetary teams composed only of beings from that world competed for the Galactic Cup. In 156 ABY, the Modern Age of Limmie is considered to have begun when teams were reorganized into a professional league where players were able to choose their teams rather than be forced to play for their homeworld.
Modern Age
Edit
Crendan Era
Edit
Crendan Era: 246-261 ABY
Year
Champion
Runner-Up
Score
246 ABY
Corulag Swoops
Chandrila Patriots
27-14
247 ABY
Chandrila Patriots
Tatooine Sandskimmers
34-32
248 ABY
Denon Demons
Kamino Waves
17-7
249 ABY
Nar Shaddaa Smugglers
Sabilon Skookumchucks
31-20
250 ABY
Hapes Consortium Buccaneers
Coruscant Senators
32-24
251 ABY
Sabilon Skookumchucks
Chandrila Patriots
31-14
252 ABY
Bakura Miners
Chandrila Patriots
26-20
253 ABY
Mon Calamari Mariners
Adumar Aces
31-2
254 ABY
Sabilon Skookumchucks
Mon Calamari Mariners
28-26
255 ABY
Coruscant Senators
Corellia Rebels
13-8
256 ABY
Chandrila Patriots
Corellia Rebels
34-13
257 ABY
Corellia Rebels
Chandrila Patriots
35-33
258 ABY
Chandrila Patriots
Mon Calamari Mariners
28-12
259 ABY
Bakura Miners
Nar Shaddaa Smugglers
18-15
260 ABY
Kashyyyk Rangers
Mon Calamari Mariners
32-7
261 ABY
Nar Shaddaa Smugglers
Mon Calamari Mariners
9-7
Kayl'hen Era
Edit
Team Statistics
Edit
Ad blocker interference detected!
Wikia is a free-to-use site that makes money from advertising. We have a modified experience for viewers using ad blockers

Wikia is not accessible if you've made further modifications. Remove the custom ad blocker rule(s) and the page will load as expected.